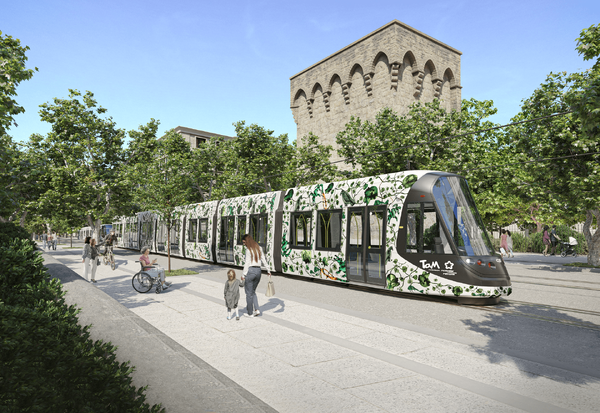 Privacy Policy
Website editor, design, development
Website publisher: TaM - Transports de l'agglomération de Montpellier
Acting in the name and on behalf of Montpellier Méditerranée Métropole under a mandate dated 29/12/2020.
Société anonyme d'économie mixte (SAEM)
Capital: €4,286,000 Trade and Companies
Register: 314 871 815 MONTPELLIER 125 rue Léon Trotski
CS 60014 - 34075 Montpellier Cedex 3 - France
Tel: 33 (0)4 67 07 61 00
Design, development and data storage: Just Happiness - justhappiness.com
Terms and conditions of use
The site accessible via the following address: design.tram5-montpellier3m.fr is operated in compliance with French legislation. Use of this site is governed by the present general conditions. By using the site, you acknowledge that you have read and accepted these conditions. They may be modified at any time and without notice by TaM.
TaM may not be held responsible in any way for any misuse of the service. TaM uses all means at its disposal to ensure reliable information and updating of its website. However, errors or omissions may occur. TaM reserves the right to correct or modify the content of the site at any time.
Limitation of liability
TaM may not be held responsible for any poor transmission of content due to internet access networks or incompatibilities related to users' browsers. TaM takes care to ensure that the display of its data is compatible with the majority of web browsers but cannot guarantee the display of its content for all existing browsers.
Any content downloaded is subject to the sole responsibility of the user. Consequently, TaM may not be held responsible for any damage to the user's computer or for any loss of data resulting from the download.
Photos are not binding.
Hypertext links used by present website towards other content present on the internet are to offer complementary resources. By following these links, the User leaves the TaM website. TaM may not be held responsible for the content of these sites, nor for any updates made to them.
The design.tram5-montpellier3m.fr site may, without its knowledge, have been linked to other sites by means of hypertext links. TaM authorises links from other sites to its site, but only to the home page, which can be accessed at the following address: design.tram5-montpellier3m.fr and, provided that this link opens in a new window. TaM declines all responsibility for information presented on other sites and reserves the right to request the removal of a link to its site.
Litigation
The present terms and conditions are governed by French law and any disputes or litigation that may arise from the interpretation or execution of these conditions shall be under the exclusive jurisdiction of the courts on which the registered office of TaM depends. The reference language for settlement of any disputes is French.
Protection of personal data
Information is collected solely to respond to your enquiries.
This data is reserved for the use of TaM and may only be communicated to recipients within TaM who are able to process your request. TaM undertakes not to sell, rent, transfer or give access to your data to third parties without your prior consent, unless obliged to do so for a legitimate reason.
The data will be stored on the TaM collaborative database. Your personal data will be kept for a period not exceeding one year after your last contact with TaM, unless:
You exercise your right to have your data deleted as described below;
A longer retention period is imposed or permitted under a legal or regulatory obligation.
During this period, TaM shall implement all the necessary means to ensure the confidentiality and security of your personal data, so as to prevent their damage, deletion or access by unauthorised third parties.
You have the right to access, rectify and request removal of data concerning you, which you can exercise by contacting us at ligne5@tam-way.com.
Cookies
A cookie is a small text file placed on your computer when you visit a site. Its purpose is to collect information about your navigation on the sites and to provide you with personalised services. In your computer, cookies are managed by your internet browser. You can deactivate them from your browser.
Statistics
The design.tram5-montpellier3m.fr website uses Google Analytics to collect anonymous statistics on its use by internet users (pages consulted, number of visitors, browsers used, etc.). This data allows us to improve your access to information. Google Analytics cookies are placed on your computer after you accept them.
Contenus enrichis
design.tram5-montpellier3m.fr uses dedicated services to offer you enriched content:
The site uses YouTube for video broadcasting. Playback of this enriched content requires the registration of cookies.

To receive push notifications on news and work information, the site uses One Signal. Reception of these alerts requires the registration of cookies.
How to manage cookies?
To manage cookies, you need to configure your browser:
Period of validity of the consent for cookies.
At the end of a period of thirteen months from the first visit to the site, a request for consent to cookies on a terminal is renewed for the visitor.
Intellectual property
All the content of this site, including, but not limited to, graphics, photographs, texts, videos, animations, sounds, logos, gifs and icons, as well as their layout, are the exclusive property of TaM, with the exception of trademarks and logos belonging to other partner companies.
Any reproduction, distribution, modification, adaptation, retransmission or publication, even partial, of these various elements is strictly prohibited without express, written consent from TaM. Unauthorised representation or reproduction, by any means whatsoever, is an infringement punishable by articles L.335-2 et seq. of the Intellectual Property Code. Failure to comply with this prohibition constitutes an infringement that may incur civil and criminal liability. In addition, the owners of the copied content may take legal action against the infringer. An online form is available for all requests for authorisation or information.
Contact us
TaM is at your disposal for any comments or suggestions. You can write to us using the online form.
A new route is opening for you.
More information on tram5-montpellier3m.fr.